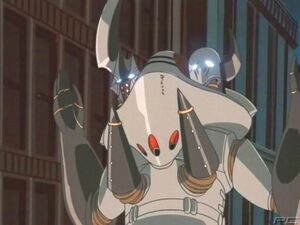 Seen in "Stripes" and "The Third Big".
Bonaparte is built from the remains of the 3 Foreign Megadeus after Big Fau's parts were removed. These parts consist of Fouche's legs, Robespierre's drills, Carnot's arms, Robespierre's hip section, and both Robespierre & Fouche's heads. It was first clashed with Big O, only for Roger to abandon Big O to save Dorothy.
It was sent by the Union to retrieve the memories from Paradigm City.
The weapons consisted of: a pair of large drills, extendable heads, and a purple, electricity energy attack. The energy attack was powerful enough to destroy a very large portion of the superstructure of Paradigm's main dome. It was destroyed by Alex Rosewater and Big Fau.
Its design is a homage to "Doublas M2", one of the first "mechanical brutes" from Mazinger Z.
External Links
Edit
Community content is available under
CC-BY-SA
unless otherwise noted.