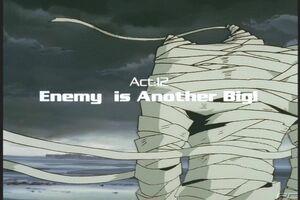 Season 1

Previous: Act 11: Daemonseed
Current: Act 12: Enemy Is Another Big!
Next: Act 13: R.D.
Schwarzwald is still alive and Roger is sent to confront him. Roger must go in combat using Big O against Schwarzwald, who is using a mummy robot. The initial victory of burning the enemy megadeus is ended after the fire reveals Big Duo. Thanks to Angel, Roger finds Schwarzwald at a masquerade party in a skyscraper, but things go awry when the masks of the party guests burn them alive, causing them all to jump out of the building. Schwarzwald challenges Roger to a final showdown. Big Duo's ability to fly overwhelms Rogers until he uses the "false skies" of the domes to deprive Big Duo of its engines. When Schwarzwald manages to jump out of the Big Duo, it begins to move on its own towards the Paradigm headquarters tower for a moment until it collapses.
The Japanese title is "Enemy as Another Big!"
The Military Police show their driving skills.
The amount on the cheque/check is at least 10,000,000,000.
External Links
Edit
Community content is available under
CC-BY-SA
unless otherwise noted.