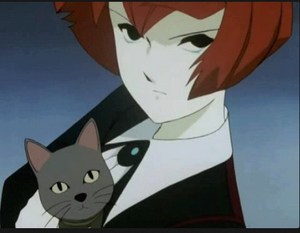 A bizarre murder occurred when an expensive pet turned into a monstrous creature which killed its owner before it died itself. Meanwhile, Dorothy brings with her an abandoned kitten named Pero on the way home, however Roger has his doubts when the kitten dirties his office area. Roger has noticed change in Dorothy ever since even though she does not show much for it. When Pero's owners show up, Roger tries to negotiate with them, but to no avail. As Roger advises Dorothy to personally return Pero back to its owner, a man operating an aircraft captures Dorothy with Pero and kills the distraught owners. Big Ear says that the man is named Eugene Grant, an alchemist that researched artificial proteins. Eugene shows Dorothy his human experiments of animal genetic manipulation, revealing that Pero used to be a human child before Eugene took him for experimentation and the owners he murdered were his parents. Meanwhile, Roger and Angel find the laboratory, first having to get past all the obstacles in their way. Roger summons Big O when an experiment, known as the Chimera, wreaks havoc. Dorothy, apprehended by Eugene, tells Roger not to attack the Chimera because Pero was the base of the experiment. The Chimera kills Eugene when Dorothy calls out to it, then chooses to commit suicide in the ruins of the laboratory.
Aircraft appearances:

"Missing Cat"
The Union's air force.
External Links
Edit